TEAM TSM'S CHASSIS #10 IS FOR SALE RIGHT NOW PLEASE CALL FOR PRICE!!(PIC'S)
TSM ALSO HAS A 383 COMPLETE MOTOR FOR SALE FRESH READY TO GO WITH SHAFT ROCKERS 5500.00$
bilsteiN--PRO SHOCKS--INTEGRA--AFCO--KONI--PENSKE--OHLINS
SHIRT BLOW OUT SALE PLEASE CHECK TO SEE IF YOUR SIZE IS HERE AND I CAN SHIP THEM OUT ASAP. GREAT GIFT FOR THE HOLIDAYS.
ALL SHIRTS ARE 9.00$ AND TWO FOR 15.00 PLUS SHIPPING. THANK YOU
12-8-2012:
BOBBY HORTON THE NEWEST MEMBER OF THE TEAM TSM TEAM WITH CHASSIS #8 GOES NOW TWO FOR TWO AT YUMA SPEEDWAY. BOBBY IS GETTING DIALED IN AND COMFORTABLE IN HIS NEW CAR AND RAILED OFF TWO WINS IN THE LAST TWO RACES. THAT MAKES 7 WINS FOR TEAM TSM THIS YEAR THERE AND 8 WINS IN THE MOD CLASS ON TSM ENHANCED SHOCKS THIS YEAR PRETTY GOOD STATS.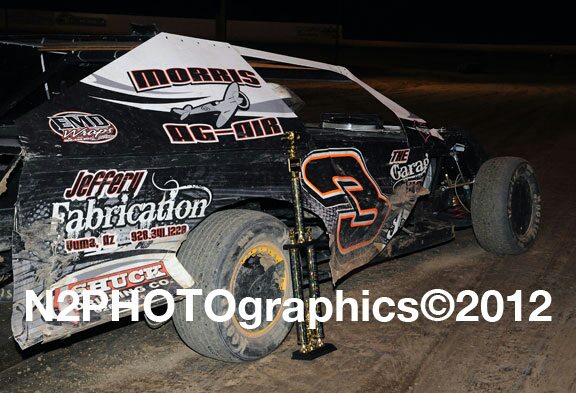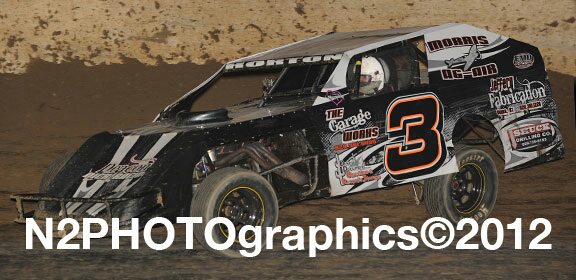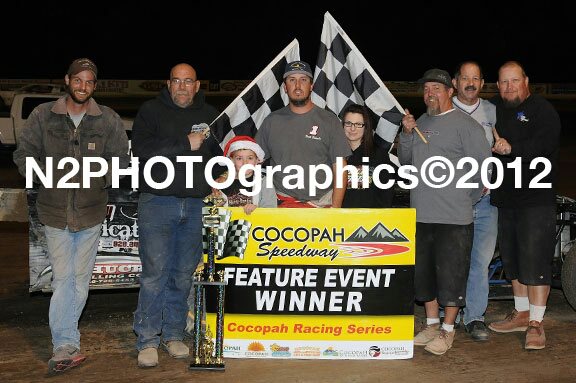 12-7-2012:
SORRY FOR NOT MAKING IMIS THIS YEAR I WAS TRULY PLANNING ON ATTENDING. I HAVE SOME HEALTH ISSUES I AM GETTING TAKING CARE OF SO I CAN CONTINUE WORKING IN THE SLOWER SEASON. I WANT TO SAY NOT GOING TO IMIS I AM STILL WORKING IN THE SHOP TO GET SHOCKS KNOCKED OUT AND CAUGHT UP. THANK YOU FOR A GREAT YEAR AND ALL THE WINS.
11-11-2012:
CODY SIMPSON WIN THE DUSTIN DUNCAN MEMORIAL SATURDAY NIGHT AND POCKETED THE 3300.00$. HE IS DRIVING A CAM CHASSIS WITH TSM SHOCKS ON BOARD. THANK YOU CODY AND CHASE FOR YOUR SUPPORT AND LETS KEEP THE FIRE BURNING IN THE WINNERS CIRCLE. PS. CODY HAS PICKED UP ABOUT 15K IN THE PAST MONTH WITH TSM SHOCKS AND CAM CHASSIS.
11-11-2012:
WELL VEGAS WAS A GOOD SHOW FOR THE #50 CAR WE PASSED A LOT OF CARS BUT JUST CAME UP SHORT TO GET IN THE BIG SHOW, ONE THING WE HAVE LEARNED IS U BETTER GET A BIG ASS MOTOR TO GET DOWN THE STRAIGHT AWAY BECAUSE OURS DID NOT CUT THE MUSTARD. BUT THE CHASSIS AND SHOCKS WERE LOOKING GREAT OUT THERE, OUR CREW HAD FUN AND IT WAS COLD FOR SURE EVERY NIGHT. THANKS TO EVERYONE.
11-7-2012: VEGAS READY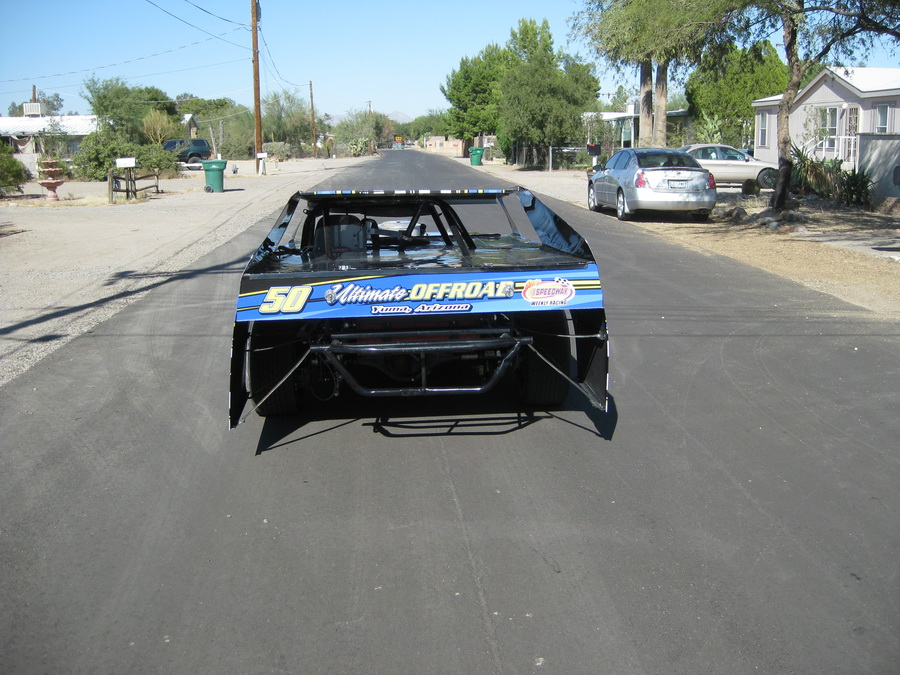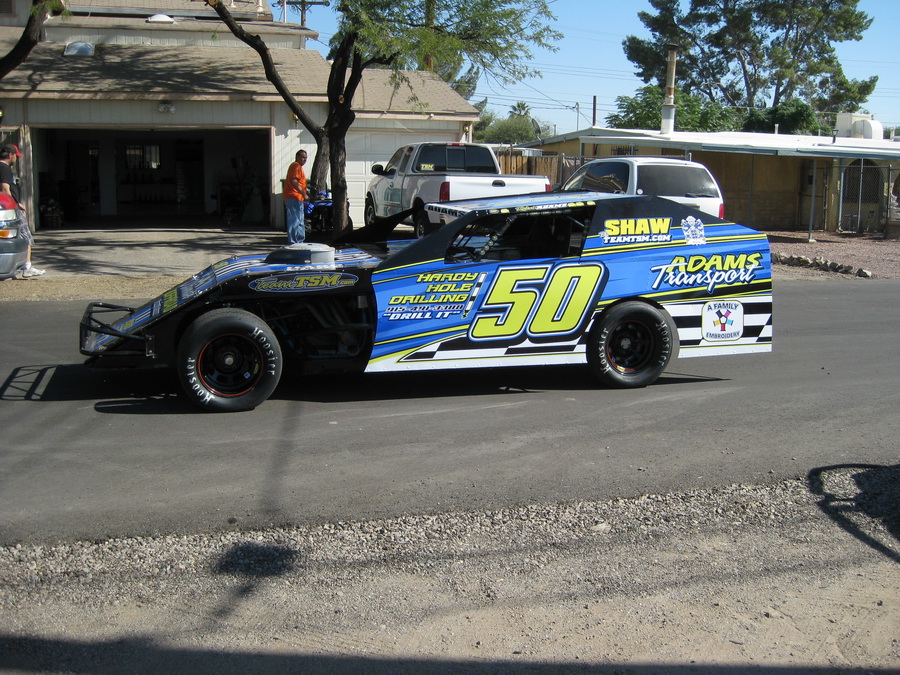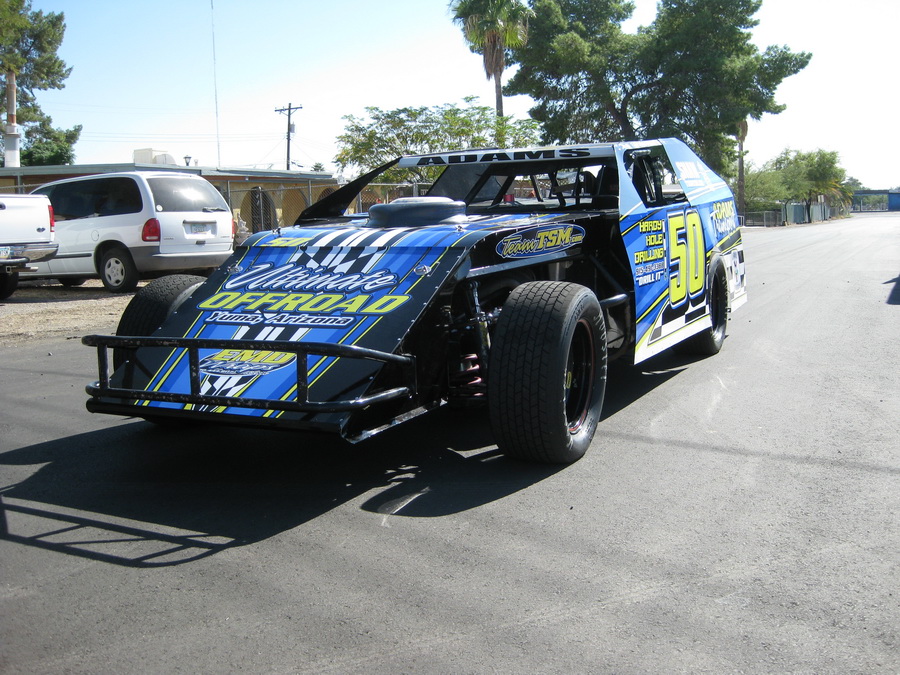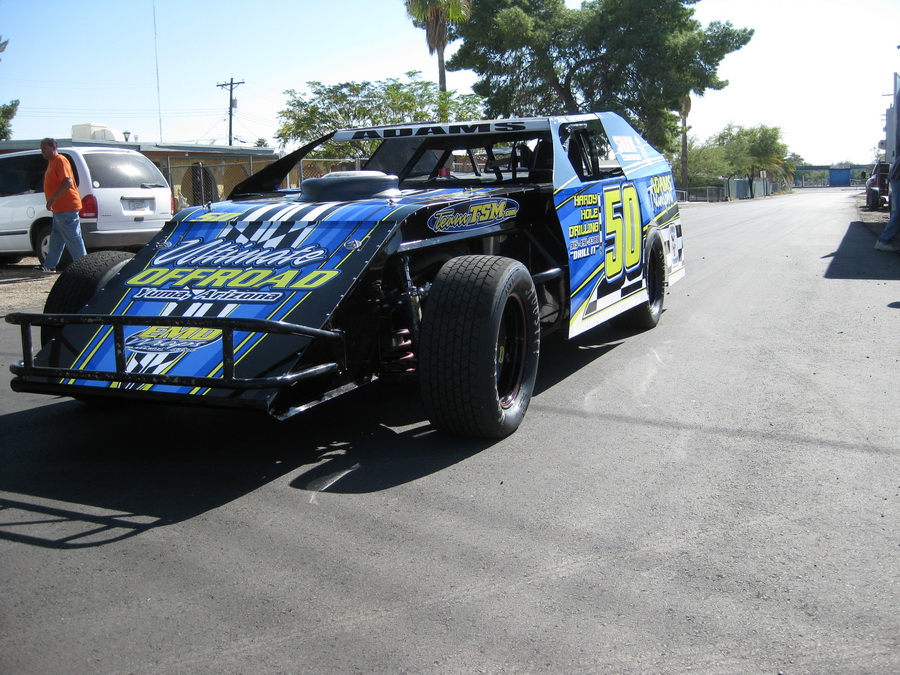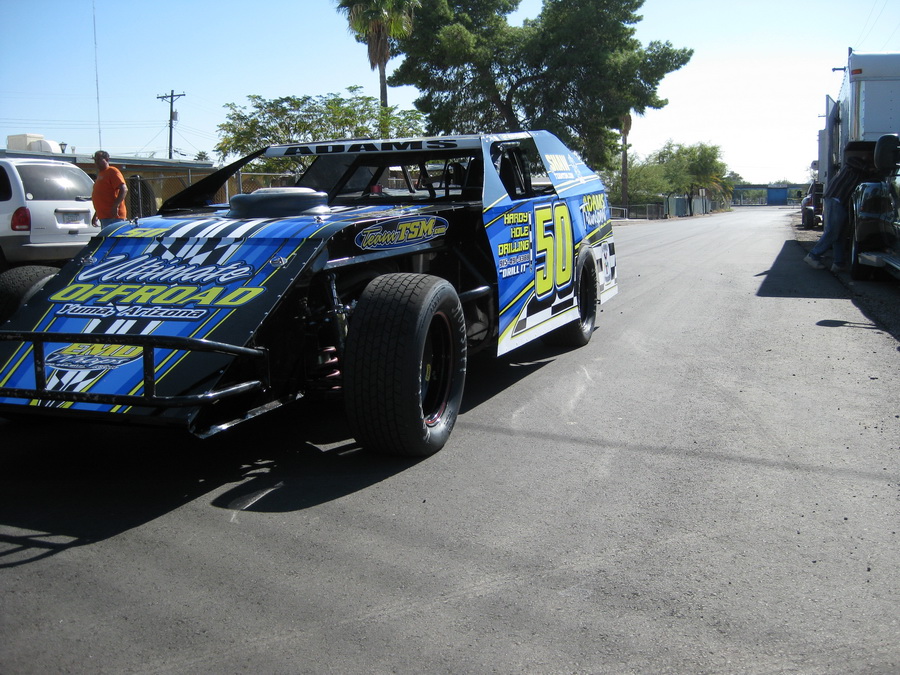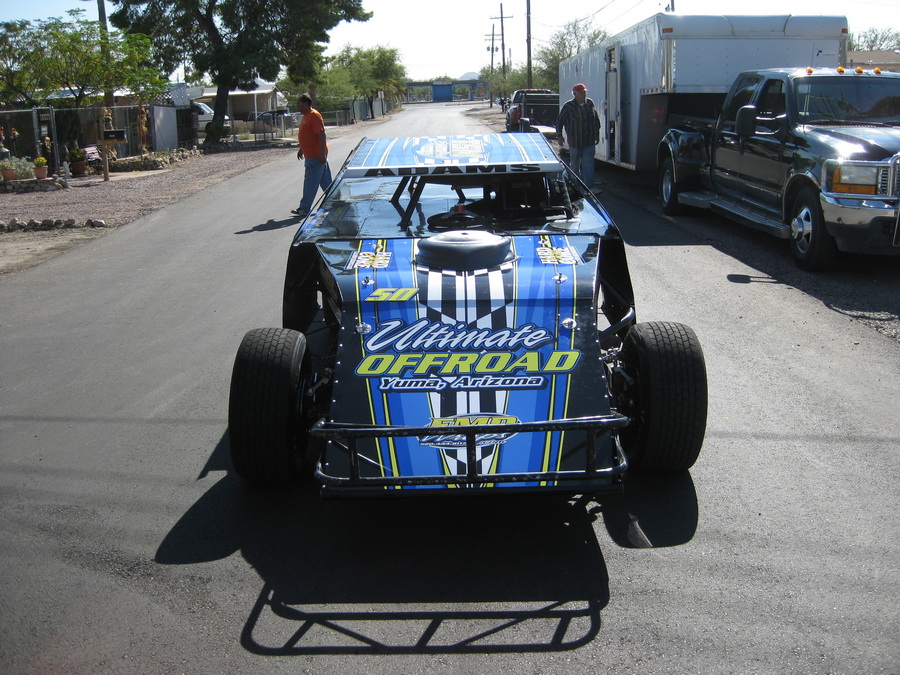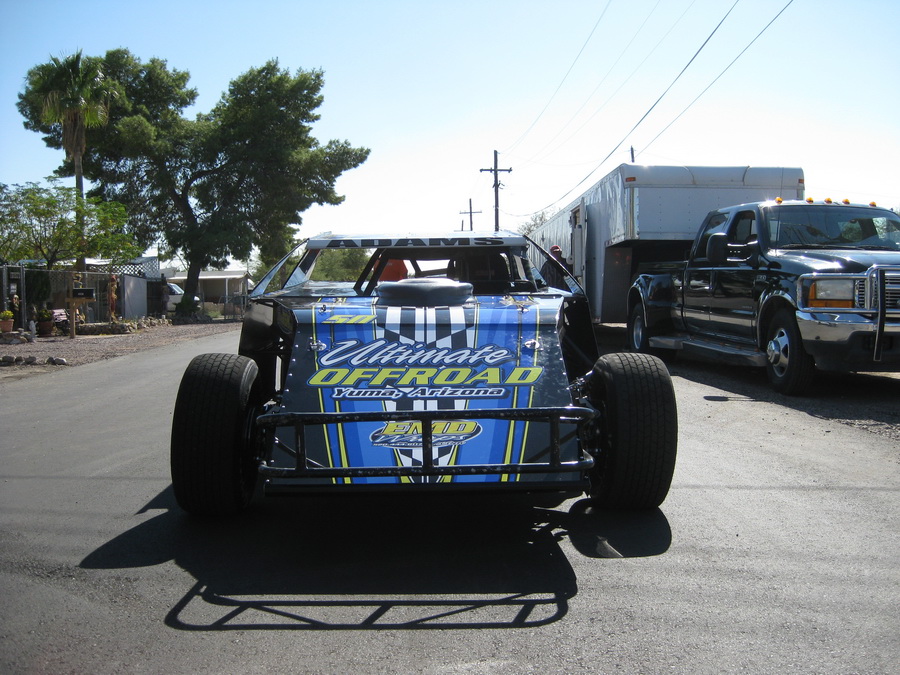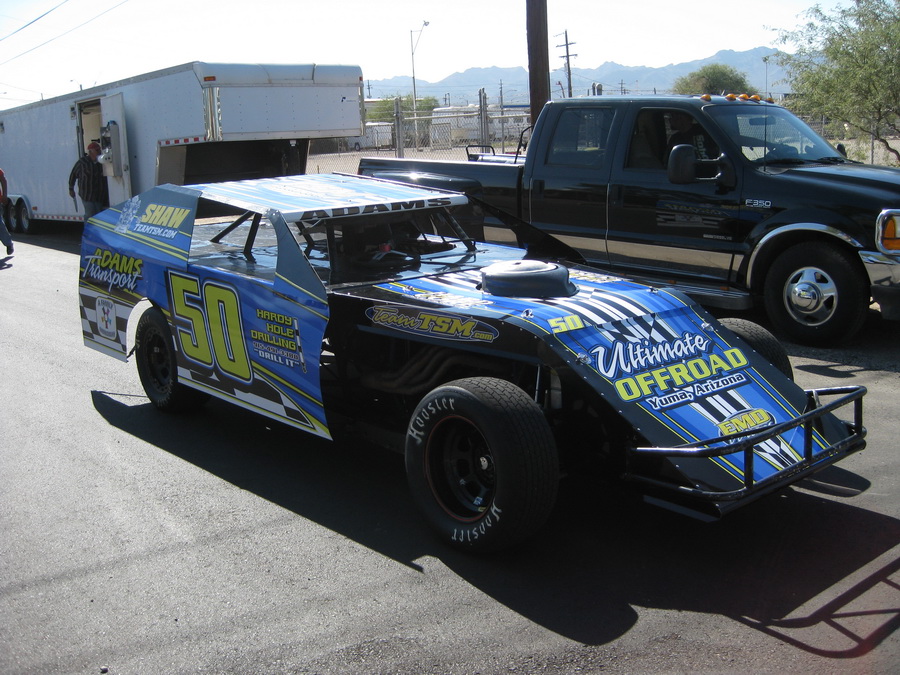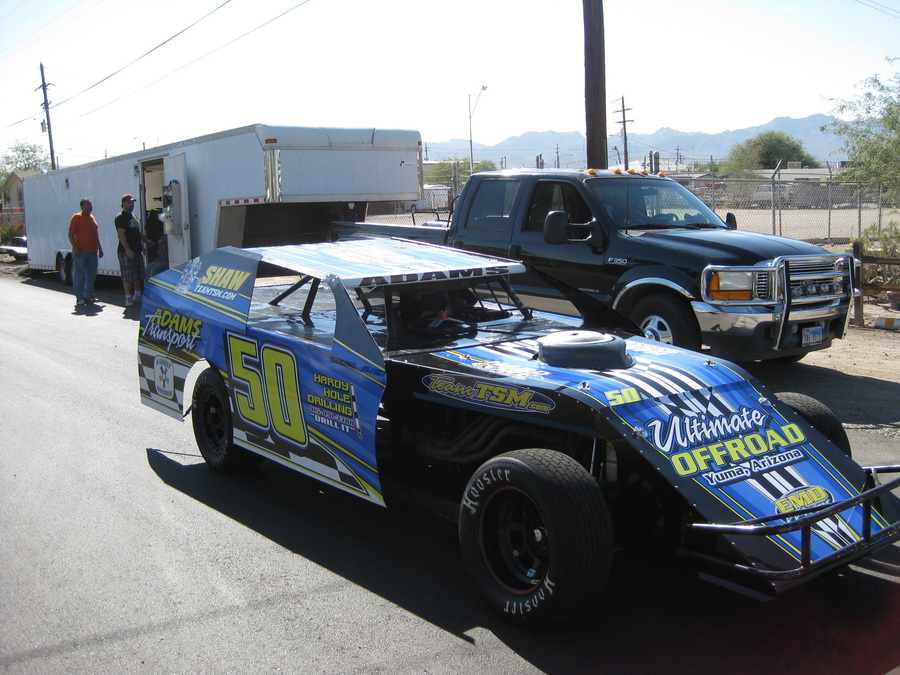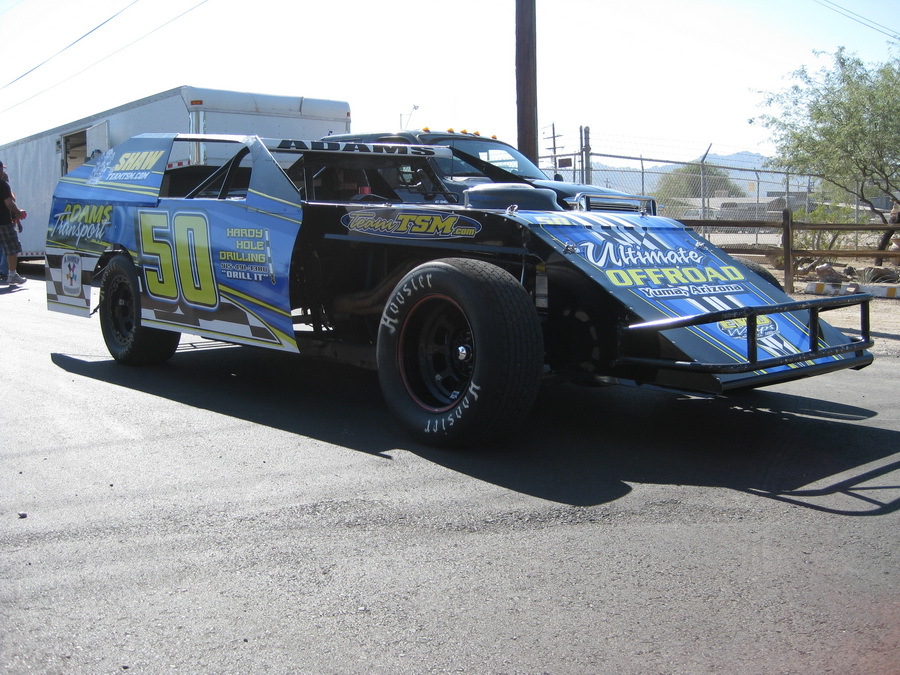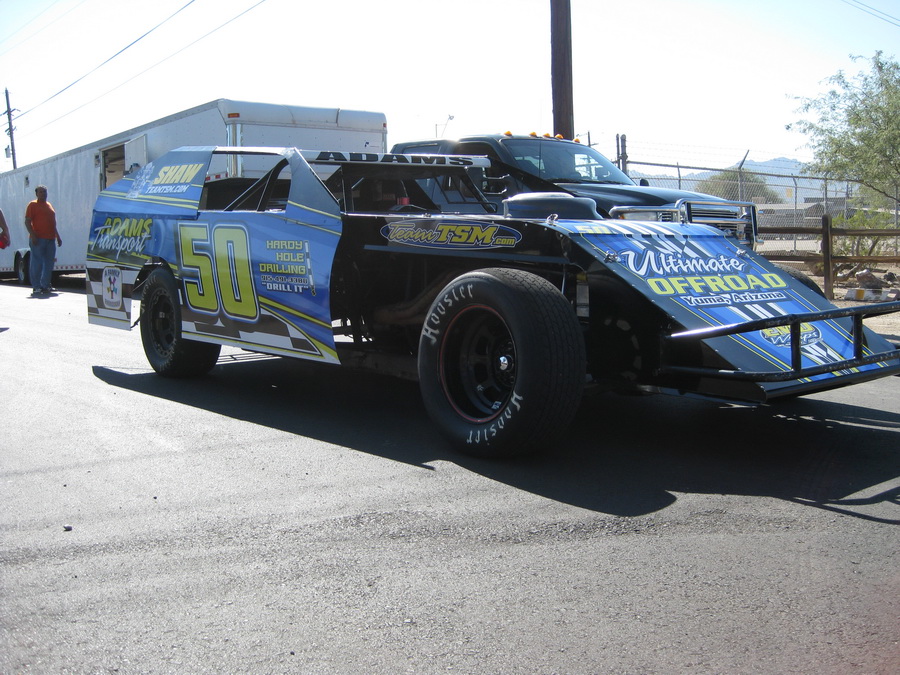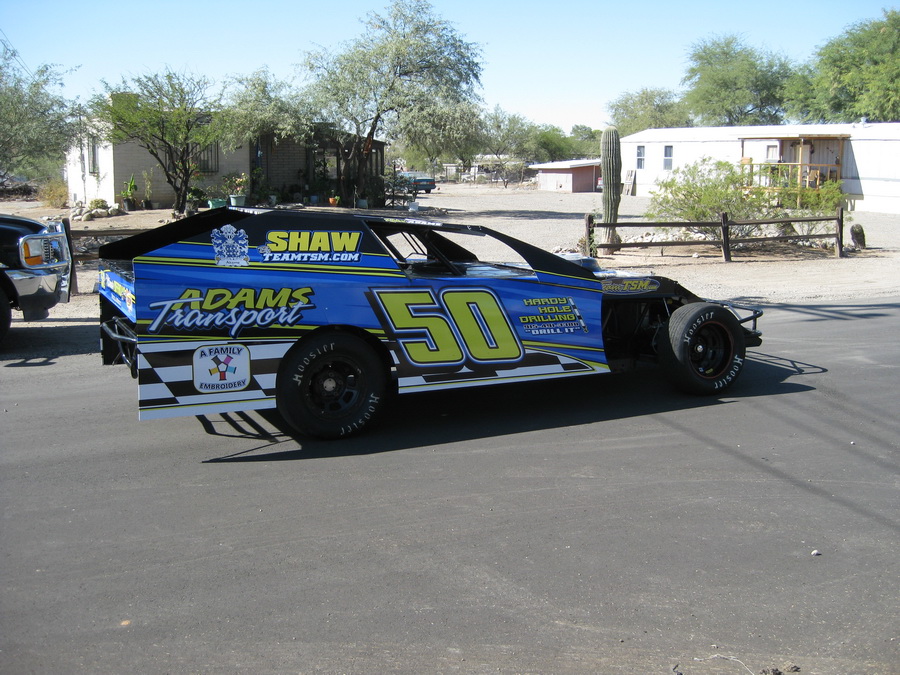 11-4-2012:
RICKY THORNTON JR TAKE THE CHECKERED FLAG AHEAD OF THE 36 CAR FIELD AT THE DUEL IN THE DESERT AT CANYON RACEWAY PARK SATURDAY NIGHT FOR THE 5000.00$ TO WIN. TSM SHOCKS WERE APART OF THAT WIN IN THE FLEXY FLIER CHASSIS, TSM SHOCKS ALSO GOT 4TH WITH ROBERT ADAMS AND 5TH WITH MARK STEWART. THANK YOU GUYS AND KEEP UP THE GOOD WORK.
10-29-2012:
CODY SMITH WON THE 5000.00 AT COWTOWN SPEEDWAY LAPPING THE COMPETITION UP TO 5TH PLACE. CODY IS DRIVING A CHASE ALLEN MOTORSPORTS CHASSIS WITH TSM SHOCKS ON BOARD.
10-29-2012:
PJ EGBERT TAKES THE HEART OF TEXAS FALL CLASSIC SATURDAY NIGHT LAPPING THE COMPETITION UP TO 4TH. PJ DRIVES A CHASE ALLEN MOTORSPORTS CHASSIS WITH TSM SHOCKS ON BOARD.
10-23-2012:
TSM IS GEARING UP FOR CANYON AND LAS VEGAS TO COMPETE WITH THE #50 ADAMS TRANSPORT SHAW BY TSM IN THESE TWO EVENTS LOOK FOR US IN THE PITS AND COME SAY HI.
10-20-2012:
KYLE BRONSON TAKE ANOTHER WIN SATURDAY NIGHT, ITS SCARY TO THINK HOW MANY WINS THIS GUY HAS THIS YEAR I KNOW ITS IN THE TWENTY'S. KEEP UP THE GOOD WORK AND WELL KEEP FRESH SHOCKS ON YOUR HOT ROD.
10-20-2012:
CODY SMITH TAKE A BIG PAYCHECK SATURDAY NIGHT AT RPM SPEEDWAY. CODY WAS DRIVING A CAM MOTORSPORTS CHASSIS AND TSM SHOCKS ON BOARD AND JUST PICKED HIS WAY RIGHT TO THE FRONT AND NEVER LOOKED BACK. THANK YOU CAM MOTORSPORTS FOR CHOOSING US TO SHOCK YOUR RACECARS.
10-20-2012:
CHASSIS #8 GET ITS FIRST WIN WITH BOBBY HORTON BEHIND THE WHEEL AT COCOPAH SPEEDWAY IN YUMA ARIZONA. BOBBY DID A SMOOTH JOB OF WAITING TO STRIKE WHEN THE TIME WAS RIGHT TO STEAL THE LEAD AND LEAD TO THE CHECKERED FLAG.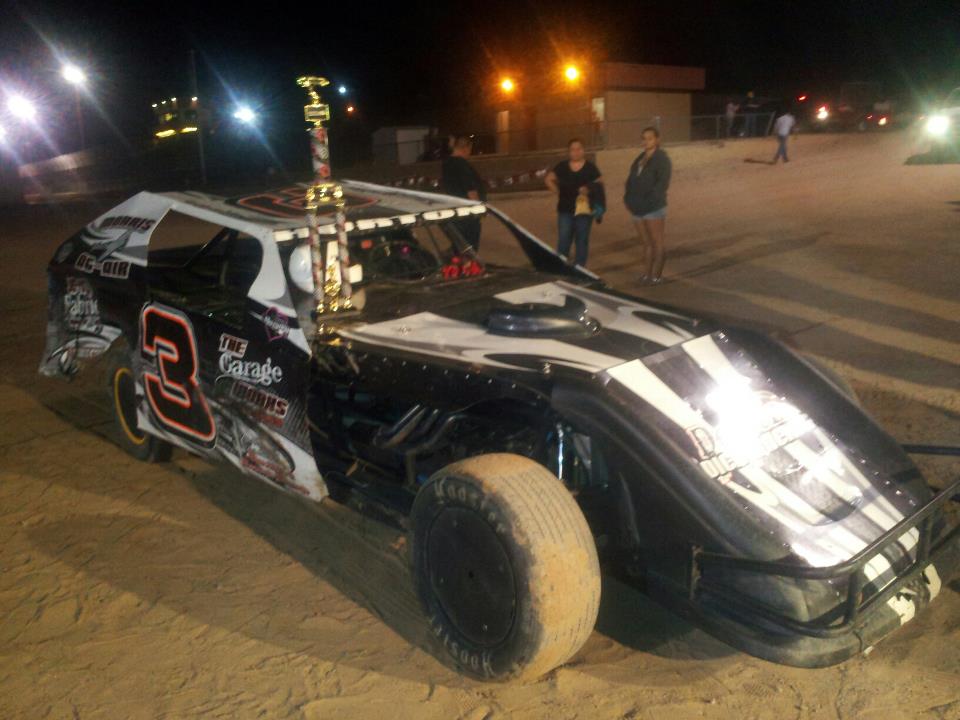 10-9-2012: SNEAK PEEK !!!!!!!!!!! NEW BASE VALVE BILSTEIN SHOCK COMING SOON !!!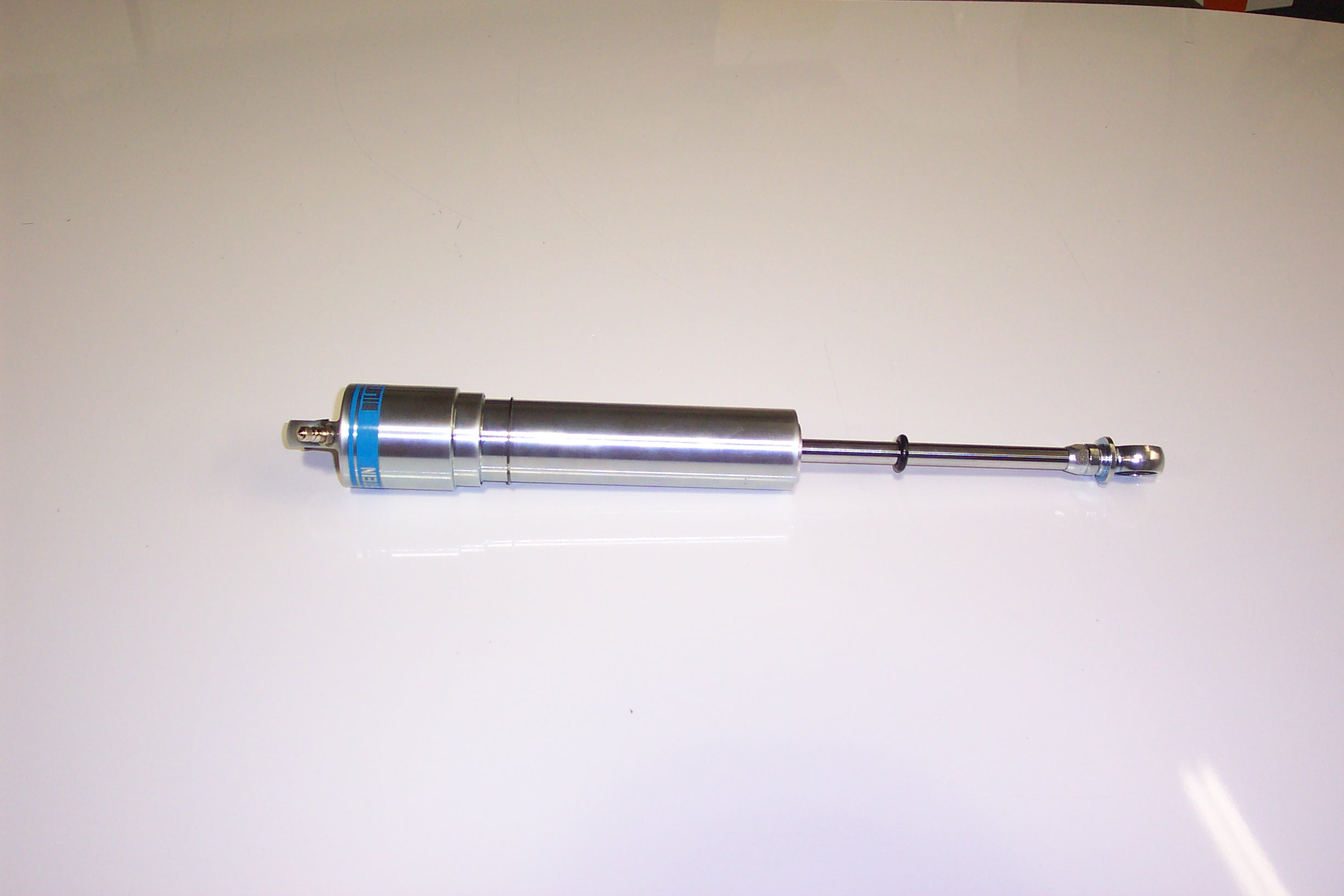 10-8-2012:
I WANT TO THANK KYLE BRONSON ON A 7TH PLACE RUN AT THE DIRT CAR NATIONALS AT ELDORA HE HAS NEVER TURNED A LAP THERE AND HE DID A GREAT JOB. THANK YOU WAYNE AND KYLE ON A GREAT SEASON AND I HOPE SPEED WEEKS IS GREAT TOO NEXT YEAR.
10-8-2012:
STORMY SCOTTS CAR TURN KEY IS FOR SALE JUST HOW IT RACED FOR 20K WITH MOTOR AND SHOCKS AND EVERYTHING AND IF U WANT IT TO COME BACK TO TSM AND GET A FRESH BODY AND MAKE SURE ITS ALL CORRECT FOR YOU WE CAN DO THAT TOO.
10-8-2012:
STORMY SCOTT TAKE THE TSM SHAW TO VICTORY LANE AFTER NOT RACING IT FOR MONTHS, DUE TO DRIVING FOR KEVIN ROWLAND IN THE USMTS SERIES. STORMY RETURNED HOME TO LAS CRUCES FOR A SHORT BREAK FROM A FULL TIME RACING JOB AND WORKED ON HIS SHAW BY TSM AND PUT A HURTING ON THEM SATURDAY NIGHT. HE DID NOT MAKE IT EASY ON HIMSELF AS HE DID NOT TRANSFER RIGHT TO THE A-MAIN HE CAME THRU THE B MAIN AND BARLEY MADE THE A FEATURE STARTING NEAR THE BACK. STORMY DID NOT MAKE MANY ADJUSTMENTS ALL NIGHT EXCEPT THE FRONT BUMPER AND NOSE PIECE SINCE HE WAS RUNNING THEM OVER GOING INTO THE CORNERS IS ALL. STORMY SAID THE CAR WAS GREAT TRACK FINALLY GOT A LITTLE SLICK AND HE JUST CRUISED RIGHT ON THRU THE STIFF COMPETITION IS LAS CRUCES AND TOOK THE CHECKERED FLAG AHEAD OF THE REST OF THEM. TSM WANTS TO THANK STORMY FOR MAKING A GOOD SHOWING.
10-1-2012:
TSM IS STOCKED UP FOR THE WINTER TIME WITH PLENTY OF SHOCKS FOR ALL YOUR NEEDS.
10-1-2012:
I WANT TO SAY THANK YOU TO MACK SHEAR AND BRINT HARDWICK FOR THERE SUPPORT ALL YEAR AND I AM GLAD TO GET YOU POINTED IN THE RIGHT DIRECTION HERE IN THE END OF THE YEAR. KEEP UP THE GOOD WORK AND WINNING THOSE RACES. THANK YOU.
10-1-2012:
RUSSELL ALLEN GETS THE CHECKERED FLAG AT COCOPAH SPEEDWAY IN YUMA SATURDAY NIGHT. RUSSELL IS THE PILOT OF THE MRT RACECARS WITH TSM SHOCKS ON BOARD. THANK YOU RUSSELL FOR YOUR SUPPORT AND BEING A TEST PILOT ON THE NEW RF SHOCK THAT HE WAS RACING WITH THIS WEEKEND WAS A 3-12. THANK YOU.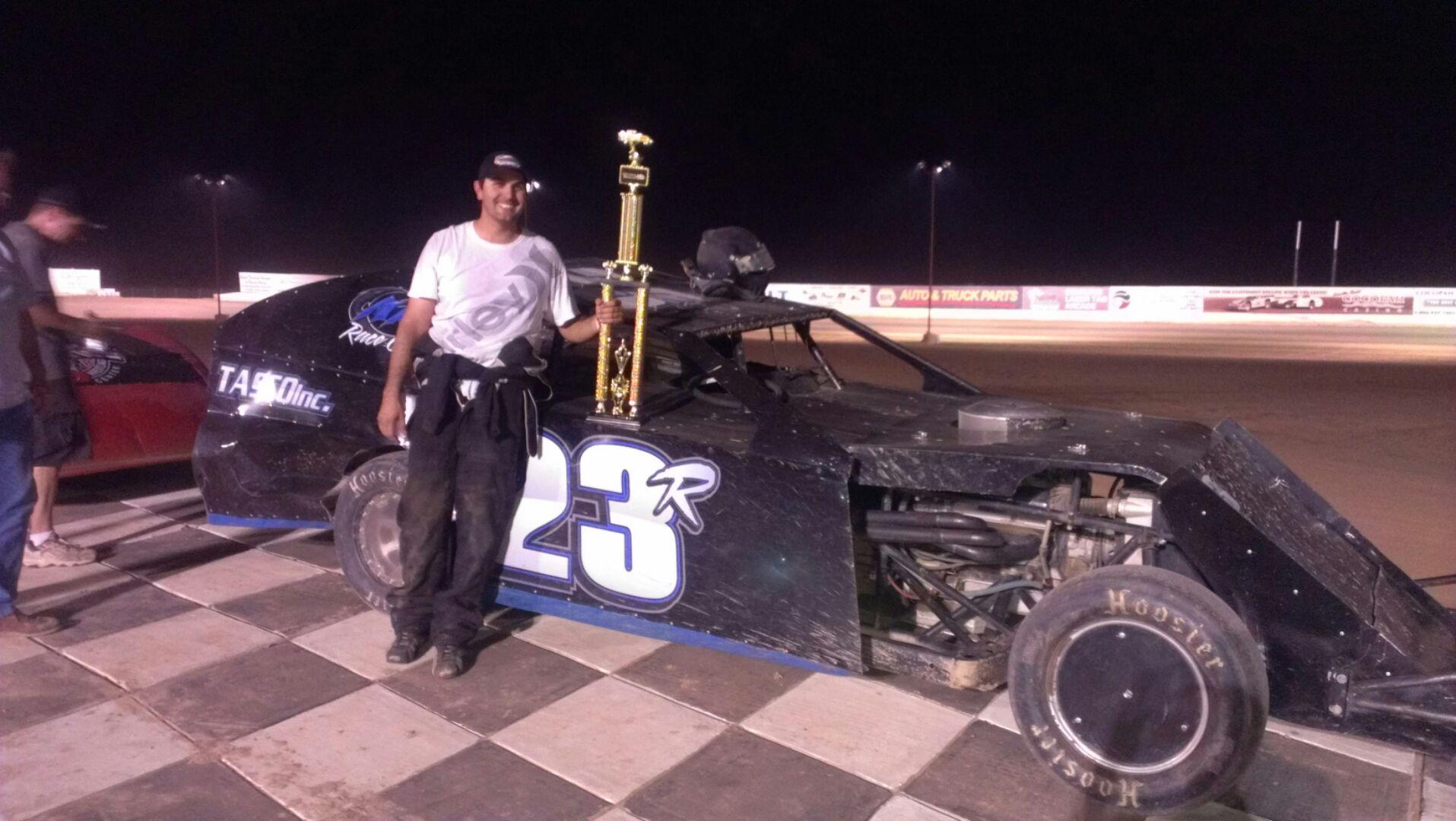 9-22-2012:
IT WAS NOT GOING TO TAKE MUCH FOR ROBERT ADAMS TO TAKE THE IMCA AND TRACK POINTS AT ET MOTOPARK ON SATURDAY NIGHT. ROBERT REALLY JUST HAD TO ROLL THRU THE GATE TO WIN THE POINTS. LOW CAR COUNT WINDING THE SEASON DOWN THERE WAS ABOUT 13 CARS AND TWO HEATS ROBERT STARTING IN THE BACK OF HEAT ONE PER IMCA POINTS HE MADE HIS WAY TO SECOND BEFORE THE CHECKERED FLAG WAS FLOWN. DURING THE HEAT HE GOT INTO ANOTHER CAR AND NOTICED SOMETHING WAS NOT QUITE RIGHT ON THE #50 ADAMS TRANSPORT, TSM ENHANCED HOUSE CAR. AFTER RETURNING TO THE PITS HE HAD NOTICED THAT THE ENTIRE LF UPPER ARM MOUNT HAD PULLED OFF THE FRAME, WITH NO WELDER INSIGHT HE PROCEEDED TO BAILING WIRE IT TO THE FRAME WITH HOPES HE COULD MAKE THE FEATURE. ROBERT STARTED DEEP AGAIN AND SLOWLY WORKING HIS WAY TO THE FRONT A BIG CRASH IN 1 AND 2 CAUSES HIM TO JUST GET TAGGED IN THE RR AND GETTING A FLAT TIRE. AFTER PITTING HE STARTED TAIL BACK AND IT LOOKED LIKE HE WAS A CAGED TIGER HE WAS CHARGING RIGHT THRU THE FIELD WITH A BEAT UP RACE CAR. HE MANAGED TO PULL OFF A SECOND PLACE FINISH AND THE CHAMPIONSHIP AT ET MOTOPARK IN QUEEN CREEK AZ.
9-21-2012:
AFTER HELPING DEREK AND RICHARD ALL WEEK ON THE PHONE WITH THERE SETUP ON THERE SHAW MODIFIED AND MAKING SURE IT WAS CORRECT TO GO OUT AND WIN RACES, DEREK WENT TO THE JACKSON 100 AND THEY UNLOADED WITH A VERY GOOD CAR AFTER HOT LAPS HE CALLED WE MADE A LITTLE TWEAK AND THEN HE RAN THE HEAT AND PULL AWAY AND WON THE HEAT WITH A LARGE MARGIN. SITTING ON THE FRONT ROW DEREK WAS IN STIFF COMPETITION WITH GILPIN AND LANDERS ALL AROUND AND WHEN THE GREEN FLAG WAS WAIVED HE NEVER LOOKED BACK OUT GUNNING LANDERS AND GILPIN HE TOOK THE CHECKERED FLAG ON FRIDAYS QUALIFIER. WITH HOPES HI HE WENT BACK FOR SATURDAY NIGHT AND WAS AGAIN QUICK AND AFTER LEADING THE FEATURE HAD A PARTS FAILURE THAT TOOK HIM OUT OF THE RACE. I WANT TO THANK DEREK AND RICHARD GROOMER FOR THERE SUPPORT AND A JOB WELL DONE.
9-15-2012:
BIG NEW HERE AT TSM WE HAD ANOTHER FIRST TIME WINNER, TYLER MECL #71 GETS HIS FIRST WIN IN THE MODIFIED CLASS AT ET MOTO PARK SATURDAY NIGHT. I HAVE TO GIVE A BIG SHOUT OUT TO TYLER AND HIS DAD TIM FOR ALL THE SUPPORT.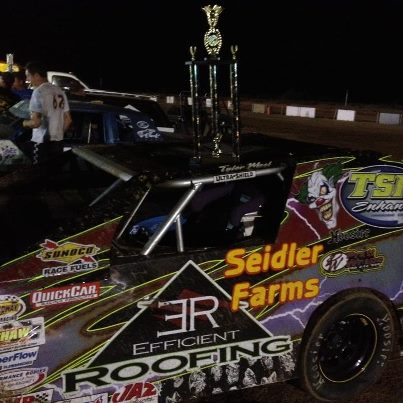 9-15-2012:
HERE IS OUR ELECTRICIAN'S NEW BODY BEFORE HE LEAVE TO THE RESERVES FOR 6 MONTHS. THANK YOU GARY GOODRICH JR FOR ALL THE WORK HERE AT TSM AND WE HOPE TO SEE U SOON.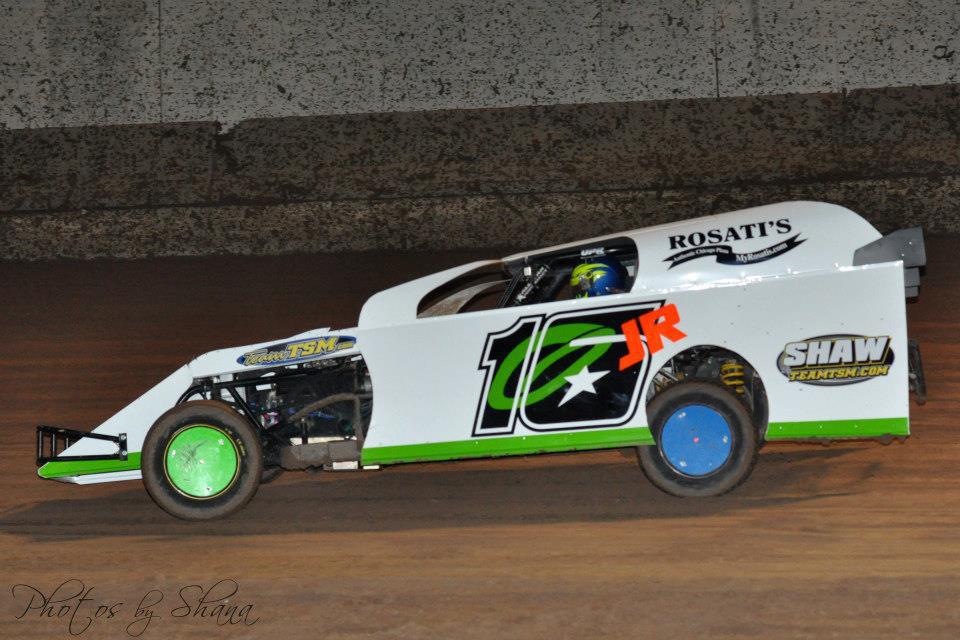 9-14-2012:
ERIC THOMLINSON GETS A WIN AT TEXAS MOTOR SPEEDWAY ON TSM SHOCKS FOR FRIDAY PRELIM QUALIFYING FEATURE RACE TO LOCK HIM IN THE SATURDAY'S BIG MONEY SHOW. TSM SHOCKS HAS 5 CARS LOCKED INTO THE BIG SHOW. TSM HAS TO THANK CHASE ALLEN FOR THE SUPPORT AND DEDICATION TO THE PRODUCT TO PUT HIS CUSTOMERS UP FRONT.
9-15-2012:
KYLE BRONSON GETS 3 WINS THIS WEEKEND AT BRP IN FLORIDA. KYLE BRONSON DRIVING LANDERS SHAW WITH TSM ON BOARD HAS 21 WINS THIS YEAR AND WAYNE HAMMONDS WIFE DRIVING HER OUTLAW 4 CAR HAS 8 WINS OUT OF 10 STARTS. I HAVE TO EXTEND MY THANKS TO WAYNE HAMMOND FOR THE SUPPORT IN THE FLORIDA AREA AND KYLE FOR DRIVING THE WHEELS OFF HIS HOT ROD TO GET THE WINS.
9-2-2012:
TYLER TOWNSEND GETS THE WIN ON TSM SHOCKS BOLTED TO HIS HUGHES CHASSIS ON SUNDAY AT ARKLATEX SPEEDWAY. TATER IN THE CHASE ALLEN CHASSIS WITH TSM SHOCKS ON BOARD RAN HIM DOWN AND WAS DOOR TO DOOR WITH HIM COMING TO THE LAST CORNER AND THEY TOUCHED AND LOST IT BUT ALL AND ALL A GREAT RACE FOR THE TWO OF THEM ON TSM SHOCKS WITH TWO DIFFERENT CHASSIS BRANDS. THANKS GUYS U MAKE IT LOOK EASY.
9-1-2012:
JOSH LUCAS GETS THE WIN SEPT 1 AT RICHMOND RACEWAY IN RICHMOND, KY. THANK YOU TO JOSH AND GERALD FOR A GREAT SEASON AND ITS BEEN A PLEASURE HELPING U GUYS OUT. HOPE MANY MORE WINS CAN COME IN THE FUTURE. THANKS AGAIN.
9-1-2012:
RICKY TINCH GETS HIS FIRST WIN IN A DIRT MODIFIED EVER ON SEPT 1ST 2012 ON TSM SHOCK AT WARTBURG SPEEDWAY IN TENNESSEE. THANK YOU RICKY AND KEEP UP THE GOOD WORK CREW.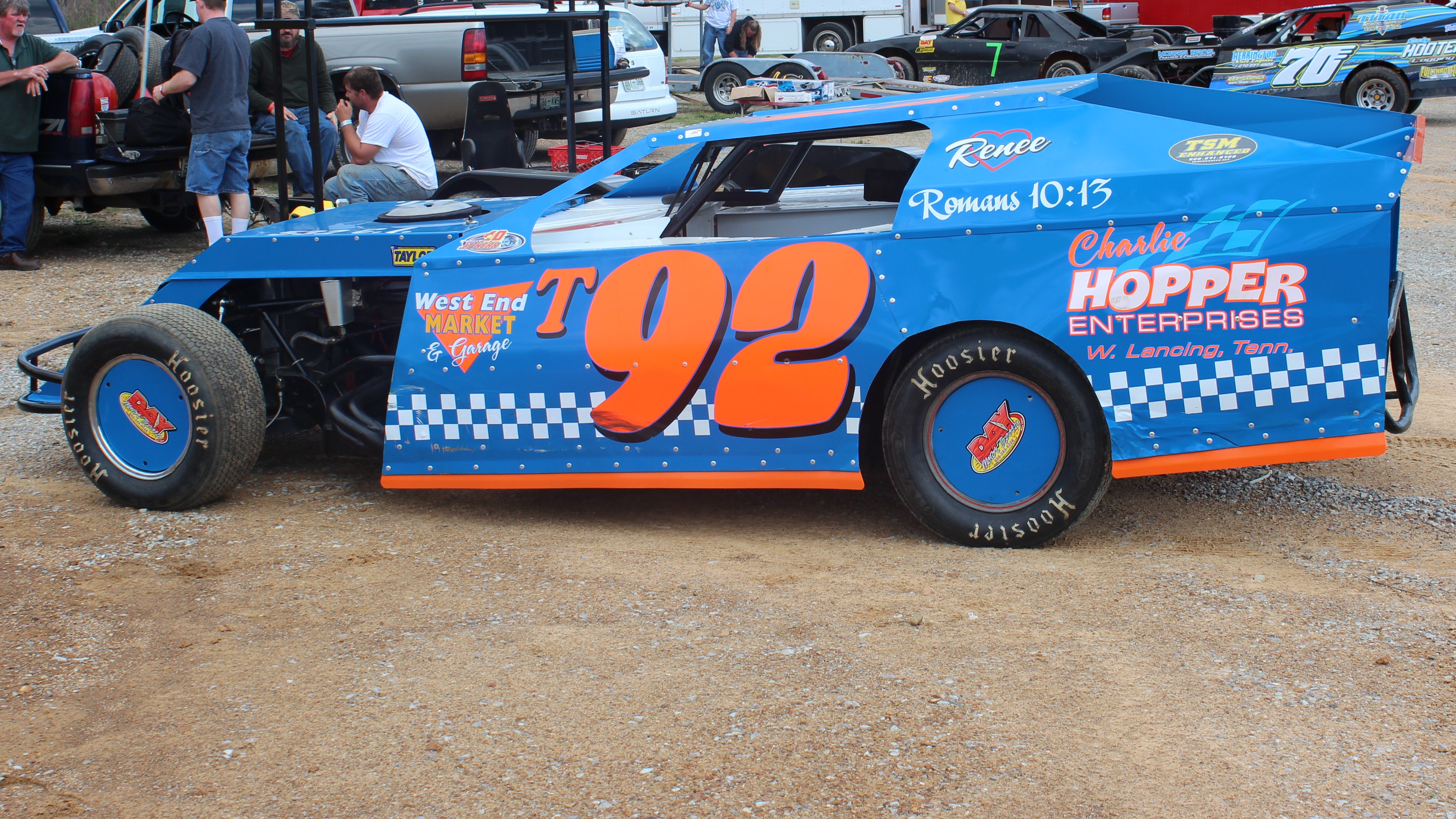 8-24-2012:
TYLER TOWNSEND RAN SECOND IN HIS NEW HUGHES CHASSIS FOR THE FIRST RACE OUT. TYLER WAS PLEASED IN HIS NEW CHASSIS AND SAID HE FELT REALLY COMFY AFTER JUST ONE RACE. TSM HAS SOME NEW PARTS BEING BUILT FOR HIS NEW HUGHES CHASSIS AND DIFFERENT SHOCKS THAT HE IS GOING TO TEST FOR US AND WELL SEE IF WE CAN MAKE SOME OF THE HUGHES STUFF BETTER.
8-24-2012:
THE ROBERT ADAMS EXPRESS WAS TRYING TO GET DERAILED THIS PAST WEEKEND BUT JUST MANAGED TO SQUEAK IT OUT. FIRST ISSUE OF THE EVENING WAS AFTER HAVING HIS CAR ON DISPLAY HE NOTICED THERE WAS A SMELL OF ANTIFREEZE SO THE CREW DISCOVERED THAT THE RADIATOR HAD TWO HOLES IN IT WITH SOME QUICK FIX PATCH FOR ALUMINUM THEY PATCHED UP. ROBERT RAN THE HEAT AND FINISHED SECOND TO L8 BRIAN SHULTZ. THE FEATURE WAS COMING QUICK AND THE TEMP WAS NOT GETTING ANY COOLER IT WAS HOT AND STALE AIR. THE TRACK ALWAYS THROWING A CURVE BALL YOU NEVER KNOW IF THEY ARE GOING TO WATER OR NOT. AT THE LAST SECOND HE SAID NO WATER THE IMCA MODIFIEDS ARE ON THE TRACK. SO MOST DRIVERS ONLY GETTING A FEW MINUTES TO MAKE SOME CHANGES TOOK TO THE TRACK. THE #50 CAR STARTED IN THE FIFTH ROW INSIDE, SLOWLY WORKING HIS WAY AROUND CARS HE FOUND HIMSELF IN SECOND BEHIND L8 AGAIN ALSO KNOWING THIS WAS SOMETHING GOING SOUTH IN HIS STEERING. KNOWING HE BETTER ACT QUICK HE PUT HIS SHAW BY TSM CHASSIS UP TO THE TOP OF THE RACING SURFACE AND IT SUCK LIKE GLUE DRIVING AROUND L8 AND TAKING THE LEAD. RUNNING A FEW LAPS WITH THE STEERING LOCKING UP AND LOSING POWER STEERING COMPLETELY, YELLOWS WERE HURTING HIM AS HE WAS GETTING WORE OUT INSIDE THAT CAR HE DID MANAGE TO KICK AND SCRATCH HIS WAS TO THE FINISH FOR HIS 6TH WIN AT ET THIS YEAR.
8-24-2012:
ANOTHER WIN FOR THE CHASE ALLEN CREW WITH DUSTIN HYDE AT TEXARKANA 67 SPEEDWAY WITH A CHASE ALLEN CHASSIS AND TSM SHOCKS ON BOARD. I HAVE TO EXTEND MY THANKS TO CHASE FOR GETTING ON BOARD WITH OUR SHOCKS AND MANY WINS TO COME.
8-24-2012:
A SATURDAY NIGHT WIN AT TEXAS THUNDER SPEEDWAY WITH PJ EGBERT AT THE WHEEL OF A CHASE ALLEN CHASSIS WITH TSM SHOCKS ON BOARD.
8-23-2012
A FRIDAY NIGHT WIN FOR KEITH WHITE AT HOT SPEEDWAY ON TSM SHOCKS, I HAVE TO THANK CHASE ALLEN FOR USING TSM SHOCKS ON HIS CHASSIS. CHASE CAME ON BOARD ABOUT A MONTH AGO AND IS RACKING UP THE WINS WITH TSM SHOCKS.
8-15-2012:
TYLER MECL'S CAR THAT TSM HELPED OUT TO GO TO BOONE THIS YEAR HE IS GOING TO TEST RUN THIS AT ARIZONA SPEEDWAY ON AUG 25-2012.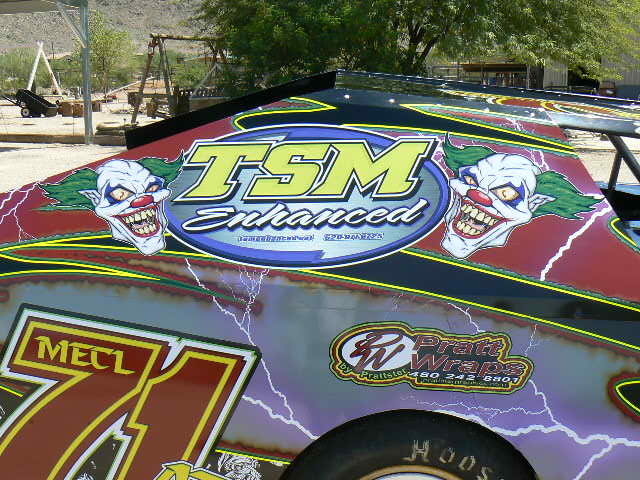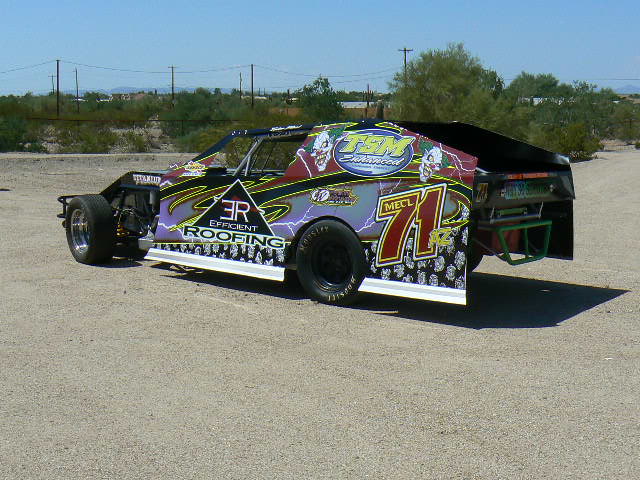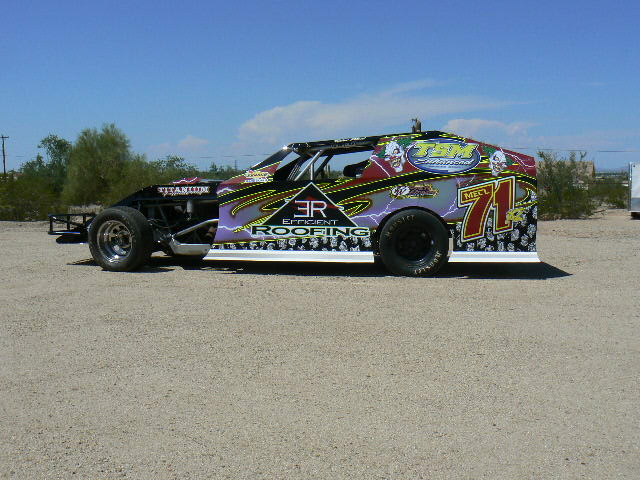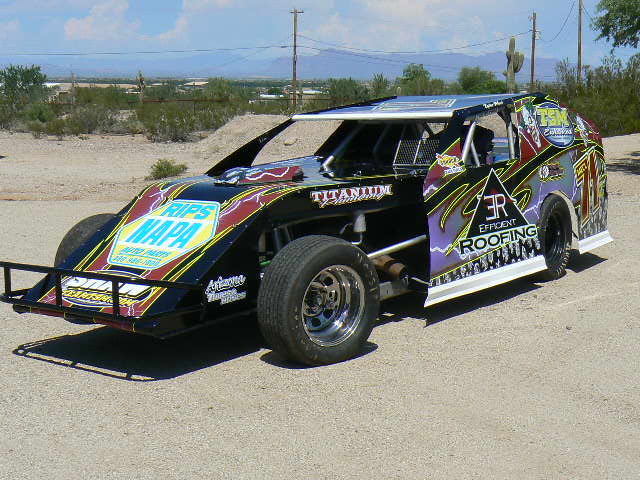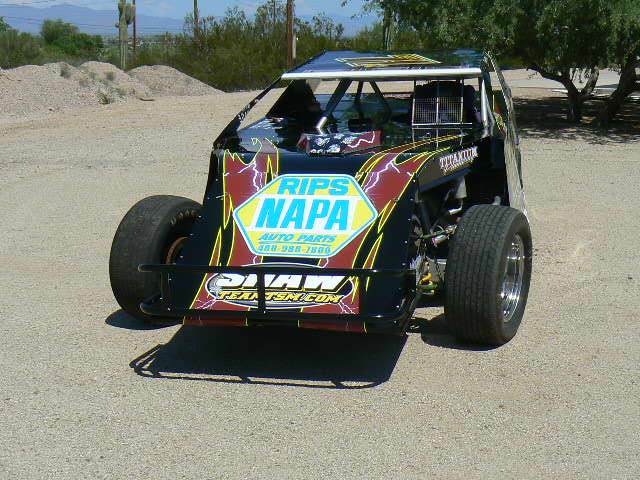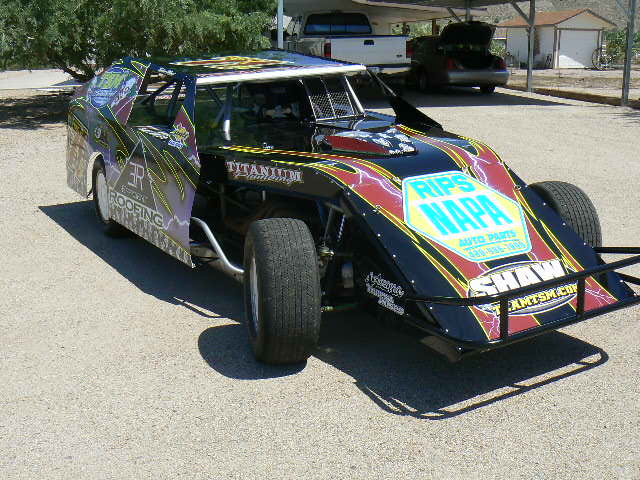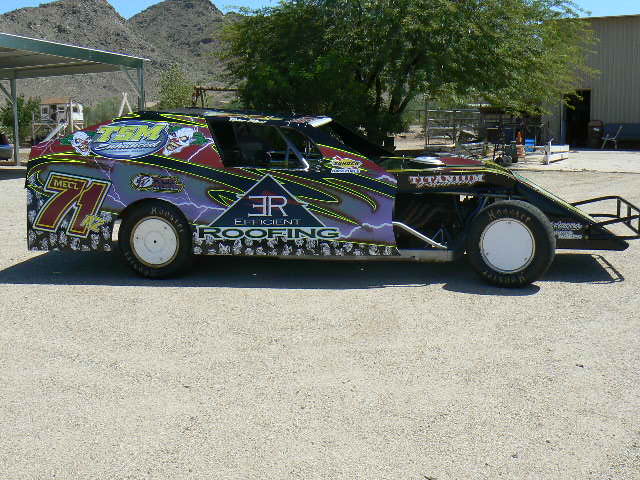 8-4-2012:
THE ROBERT ADAMS EXPRESS ROLLED RIGHT INTO VICTORY LANE AGAIN ON SATURDAY NIGHT AT ARIZONA SPEEDWAY.
7-28-2012:
GW EGBET WON ON TSM SHOCKS ON HIS CHASE ALLEN CHASSIS FOR THE FIRST TIME AT TEXAS THUNDER SPEEDWAY. TSM AND CHASE ALLEN ARE WORKING ON A PACKAGE TO SUIT HIS CHASSIS TO TAKE THEM TO THE NEXT LEVEL. CHASE AND CREW TESTED WITH MANY SHOCK BRANDS ON SUNDAY AND TSM WAS RIGHT THERE WITH THE OHLINS THAT HE SAID WERE SETTING THE BEST LAP TIMES BUT HE ALSO SAID WE DID NOT COMPARE APPLES TO APPLES THE OHLINS WERE VALVED DIFFERENT THEN THE TSM SHOCKS AND WE WILL BE HELPING THEM GET THE TSM DIALED RIGHT IN.
7-28-2012:
TOMMY BAILLY GETS THE WIN AT TWO PLACES THIS WEEKEND, PONDAROSA SPEEDWAY, AND LAKE TUMBLIN SPEEDWAY. THANK YOU GUYS. THAT MAKES 8 WINS ON TSM SHOCKS KEEP IT UP GUYS.
7-14-2012:
THE ROBERT ADAMS EXPRESS ROLLED RIGHT ON THRU THE CANYON RACEWAY PARK ON SATURDAY NIGHT AND SWEPT UP THE 1000.00$ DOLLAR PAY DAY. AFTER THE SECOND ATTEMPT THERE WE FINALLY GOT A SETUP TO THAT HE COULD DRIVE ON THAT TRACK, THERE CONDITIONS ARE NOT GREAT THERE LETS JUST LEAVE IT AT THAT. THANKS GUYS KEEP UP THE GOOD WORK.
7-8-2012:
I ALSO WANT TO THANK ROB MADRID ON AND AWESOME RACING SEASON AT EL-PASO AND LAS CRUCES IN THE X MOD HE HAS I THINK 5 WINS IN EL-PASO AND MANY IN LAS CRUCES. THANK YOU AND KEEP UP THE GOOD WORK.
7-7-2012:
CHRIS ARNOLD GETS ANOTHER WIN ON TSM SHOCKS THANK YOU DAN AND CHRIS.
7-7-2012:
JOSH LUCAS #78 GETS THE WIN AT RICHMOND, KY THIS WEEKEND WITH TSM SHOCKS ON BOARD. THANKS JOSH AND GERALD FOR A GREAT SEASON.
7-2-2012:
ANOTHER NIGHT AT ET MOTO PARK WITH THE WEATHER PUSHING THE 100'S THE RACING WAS GOING TO BE A LONG NIGHT. THE #50 ADAMS EXPRESS FINALLY WINS A HEAT RACE AND LOOKED PRETTY GOOD DOING IT. THE TRACK CONDITIONS WERE ONE GROOVE DUE TO THE HEAD CHEESE PUTTING ON WAY TOO MUCH WATER. AS THE FEATURE GETS READY TO ROLL THAT SAME HEAD CHEESE SEEN SOME DUST AND PUT DOWN ANOTHER TWO LOADS OF WATER ON AN ALREADY HAMMER DOWN AROUND THE BOTTOM RACE TRACK. AS THE RACE STARTED THEY CAME DOWN THE FRONT STRETCH ABOUT 5 WIDE AND ALL OUT OF CONTROL DUE TO THE TRACK CONDITIONS AND AS WE ALL KNOW BIG PILE UP IN TURN ONE. AFTER ANOTHER 20 MINUTES CLEANING THE MESS THE TRACK WAS A LITTLE BETTER AND THEY TOOK OFF WITH THE BOTTOM GROOVE MOVING QUICK. RICKY THORNTON MOVED OUT ON THE BOTTOM AND PROPELLED HIMSELF TO THIRD QUICKLY WHILE WE WERE MARRED BACK IN THE PACK AFTER A HEAD CHEESE MESS UP ON THE RADIO THEY CALLED A YELLOW AND THE FLAG MAN CHOOSE NOT TOO. FINALLY A YELLOW WE WERE 6TH AND TOOK OFF AND PICKED OFF A FEW AND RICKY THORNTON WAS TAKING THE LEAD AND PULLING AWAY, WE FINALLY MADE IT TO SECOND AND RAN HIM DOWN TO FIND OUT THAT SAME HEAD CHEESE CUT THE RACE TO 15 LAPS DUE TO HIS WATERING MESS UP. ON THE WHITE FLAG LAP THE FANS GOT A SHOW AS THE #50 PULLED UP ALONG SIDE OF #39 OF RICKY DOWN THE FRONT STRETCH, WITH THAT BEING SAID ROBERT WOULD OF HAD TO DOOR RICKY TO MAKE THE PASS GOING INTO ONE SO HE BACKED OFF AND LET HIM GO WITH ONE LAST EFFORT IN TURN 3 AND 4 HE JUST WAS NOT ABLE TO GET THE WIN THIS WEEK. THE #50 ADAM EXPRESS WAS DERAILED AS U CAN SAY COMING HOME SECOND WITH RICKY THORNTON WINNING A MAIN EVENT ON TSM SHOCKS ONBOARD HIS OLD FLEXY FLIER. AS U CAN SEE HERE THE MORAL OF THIS WRITE UP IS THE TRACK PROMOTERS CAN HAVE A BIG OUTCOME ON THE WINNER OF A RACE. THANKS TO THE CREW OF THE 50 AND 39 FOR A GREAT RACE.
6-26-2012:
GENE WEAVER GETS A WIN IN HIS NEW GRT CHASSIS WITH TSM SHOCKS ON BOARD AT ELK CITY, OK ON 6-22-2012. CONGRATES GENE AND MANY MORE WINS TO COME THIS YEAR.
6-23-2012:
AARON HECTRIC WON 2 IN THE PURE STOCKS AT SHOW LOW ARIZONA. AGAIN THANKS TO DON EARVIN FOR HELPING THOSE TEAMS THAT ARE NOT CLOSE TO TUCSON. THANK YOU DON EARVIN AND FAMILY.
6-23-2012:
BILLY TOWER HAS 3 WINS IN A ROW ON TSM SHOCKS IN SHOW LOW ARIZONA. THANKS TO DON EARVIN FOR HELPING THOSE GLOBE GUYS.
6-23-2012:
ROBERT ADAMS EXPRESS GETS ANOTHER WIN AT ET MOTO PARK THIS WEEKEND. AFTER GETTING TO START 6TH THAT WAS LIKE SITTING ON THE POLE FOR HIM SINCE HE HAS NOT STARTED THAT FAR FORWARD SINCE THE BEGINNING OF THE YEAR. ROBERT WANTS TO THANK HIS CREW FOR A WELL PREPARED CAR.
6-25-2012:
TOMMY BAILEY NOW HAS 4 WINS IN A ROW ON TSM SHOCKS, 2 WINS AT LAKE TUMBLING SPEEDWAY AND 2 WINS AT PONDAROSA SPEEDWAY THIS WEEKEND.
6-25-2012:
GAVIN LANDERS GETS A WIN IN THE DIRT MODIFIED ON FRIDAY NIGHT AT BATESVILLE SPEEDWAY. THANK YOU GAVIN AND FAMILY FOR THE SUPPORT AND HOPE MANY MORE WINS TO COME FOR YOU.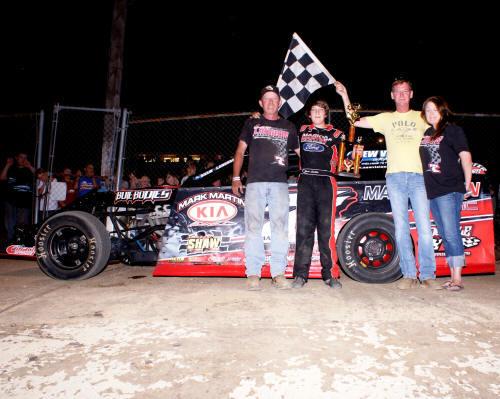 6-10-2012:
ROBERT ADAMS TOOK THE 50 CAR TO CANYON SPEEDWAY SATURDAY NIGHT AND CAME HOME 5TH NOT A WIN BUT BIG STRIDES IN THE SETUP FOR THE END OF THE YEAR RACE THERE. THERE LOCAL NIGHT RACING SURFACE IS NOT THE BEST BUT ALL IN ALL A GOOD NIGHT.
6-10-2012:
WELL WE MADE OUR FIRST SPRINT CAR DEBUT WITH THE WING SPRINTS HERE AT TIR THIS SATURDAY AND NOT A BAD SHOWING THE CAR WAS BRAND NEW AND FEW MORE ADJUSTMENTS AND IT WILL BE VERY STRONG TO BEAT. SHOCKS ARE PRETTY CLOSE A LITTLE BLEED CHANGE HERE AND THERE AND WERE GOING TO BE REALLY STRONG. I WANT TO THANK THE PARKERS FOR THERE SUPPORT AND WITH THEM LUCK ON THE SPRINT CAR RACING.
6-11-2012:
OUR THOUGHTS AND PRAYERS GOING TO THE CRIGLER FAMILY, SCOTT HAD A BAD ACCIDENT AT WEST PLAINS MOTOR SPEEDWAY AND TORE HIS CAR UP PRETTY BAD. I WISH SCOTT AND FAMILY A SPEED RECOVERY AND IF WE CAN HELP HERE LET US KNOW.
6-4-2012:
TROY FOWLER GETS THE A MOD FEATURE WIN AT MALDEN, MO. SHORTLY AFTER HE GETS HIS SECOND WIN OF THE SEASON COLE FOWLER GETS HIS 2ND E MOD FEATURE WIN OF THE YEAR. KEEP UP THE GOOD WORK SOUNDS LIKE THINGS ARE GOOD THERE.
5-27-2012:
BJ BAZE GETS ANOTHER WIN SUNDAY IN THE NORTH TEXAS NATIONALS FOR 1500.00$ TO WIN. BJ HAS BEEN STRUGGLING THIS YEAR BUT WITH HIS HARD WORK AND ME HELPING THRU SETUP ON THE PHONE WE FINALLY GOT HIS SHAW CAR LINED OUT. I WILL BE LOOKING FOR MANY MORE WINS FROM BJ THIS YEAR.
5-27-2012:
ISAAC ZARAGOZA GETS HIS FIRST X-MOD WIN AT CANYON SPEEDWAY PARK SUNDAY NIGHT. AFTER STRUGGLING WITH THIS CAR THEY BROUGHT IT TO TSM HEADQUARTERS AND WE DID OUR MAGIC AND REBUILT IT FROM THE GROUND UP AND NOW ISAAC WHO IS PRETTY USE TO WINNING SINCE HE TOOK 11 VICTORY'S IN A ROW WITH HIS FACTORY STOCK SAYS THAT HE CAN DRIVE IT ANYWHERE. I WANT TO THANK ED AND HIS FAMILY FOR TRUSTING ME AND I WANT TO SAY THANKS TO ISAAC FOR BEING A GREAT DRIVER.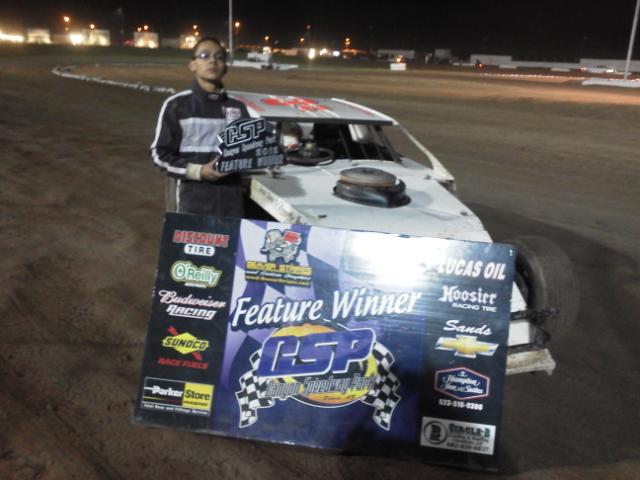 5-26-2012:
ROBERT ADAMS TAKES THE CHECKERED FLAG AGAIN AT ET MOTOPARK SATURDAY NIGHT. THAT MAKES 8 WINS OUT OF 12 RACES THIS YEAR. TSM HAS REALLY FOCUSED ON THE IMCA SETUP AND SHOCK PACKAGE FOR THIS YEAR. WE ALSO HAVE STORMY SCOTT IN THE TSM SHAW CAR OUT ON THE USMTS TOUR THAT WE ARE GETTING FEEDBACK FROM. TSM WANTS TO THANK ROBERT AND HIS CREW ON A GREAT WIN AND MANY MORE TO COME.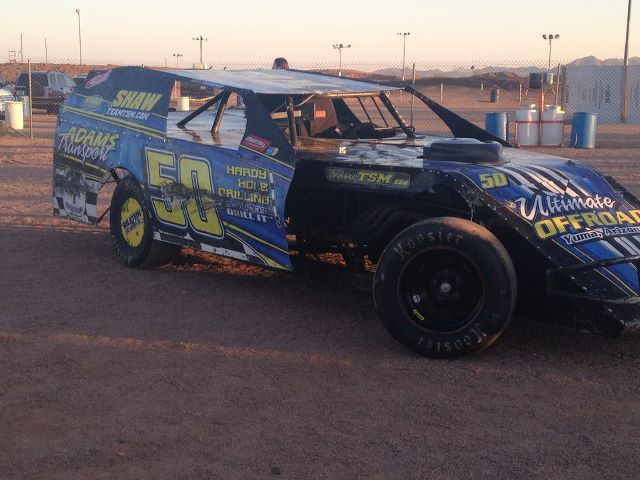 5-22-2012:
THE NEW BILSTEIN BASE VALVE SHOCK SHOULD BE COMING SOON TO A TRACK NEAR YOU. BILSTEIN IS IN THE TESTING PROCESS RIGHT NOW WE SHOULD SEE SOME SOON COME THRU THE DOORS AND THEN OUR OWN TESTING WILL BEGIN.
5-19-2012:
STORMY RUNNING HIS CHASSIS #3 IN AMARILLO THIS WEEKEND RUNS SECOND TO JASON HUGHES IN THE USMTS RACE. THANK YOU STORMY FOR THE GOOD RUN IN THE SHAW BY TSM.
5-19-2012:
I KNOW THERE IS SO MANY WINNERS ON TSM SHOCKS THAT DON'T GET ON THE WEBSITE. IF YOU WOULD LIKE A PICTURE AND A WRITE UP PLEASE SEND THEM TO ME VIA E-MAIL AND I CAN PUT THEM ON THE WEBSITE FOR YOU. THANK YOU STEVE NELSON.
5-19-2012:
CHRIS ARNOLD GETS A WIN THIS YEAR ON HIS MACHINE WITH TSM SHOCKS ONBOARD. HIS DAD WAS ON THE POLE AND CHRIS HAD TO CHASE HIM DOWN AND PASS HIM FOR THE WIN BOTH OF THEM ARE ON TSM SHOCKS AND SUPPORT. THANKS GUYS YOUR DOING AWESOME I THINK TSM PUT THE FUN BACK IN WINNING FOR THEM.
5-19-2012:
ROBERT ADAMS DOES IT AGAIN AT YUMA SPEEDWAY. ROBERT HAD A HARD FOUGHT RACE AND WITH JASON NOLL TAKING CHARGE ROBERT SPENT MOST OF THE RACE RUNNING HIM DOWN AND WITH JASON BLOWING A MOTOR ON LAP 16 THAT LEFT ROBERT IN 5TH. AFTER THE RESTART IT DIDN'T TAKE HIM LONG TO TAKE THE LEAD AND PULL AWAY. THANKS TO ALL THE SUPPORT ON THE # 50 ADAMS TRANSPORT, TEAM TSM SHAW.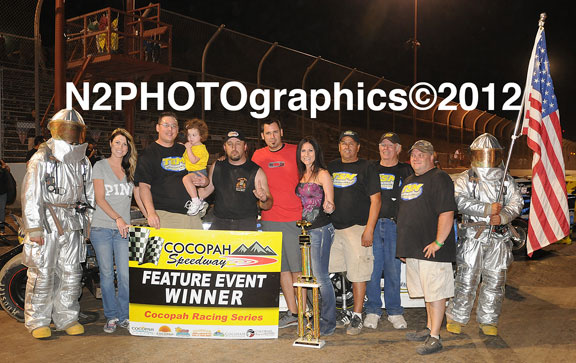 5-12-2012:
MARK STEWART GETS THE WIN AT CANYON SPEEDWAY PARK SATURDAY NIGHT. MARK STEWART BROUGHT ME HIS CAR AFTER KENNY WALLACE DROVE IT WHEN NASCAR WAS IN TOWN AND KENNY SAID THERE IS SOMETHING WRONG WITH THIS CAR IT IS A HANDFUL. AFTER GETTING THE CAR HERE IN TSM SHOPS WE WENT THRU THE ENTIRE CAR AND FOUND MANY THINGS WRONG. MARK HAS BEEN VERY PLEASED WITH THE OUTCOME OF HIS RACECAR AND NOW HE FEELS LIKE HE HAS A FIGHTING CHANCE AT WINNING. THANK YOU MARK FOR BELIEVING IN TSM AND GREAT JOB ON THE WIN AT CANYON SPEEDWAY PARK SATURDAY NIGHT.
5-8-2012:
TSM CHASSIS #2 WITCH IS A 2006 CHASSIS THAT WAS UPDATED TO TSM SPECS IN 2010 AND THEN AGAIN IN 2011, SINCE GOING TO IMCA, HAS 10 STARTS, 2-14TH PLACE FINISHES AND 2-DNF, AND 6 WINS SO FAR THIS YEAR. THANK YOU ROBERT ADAMS AND CREW FOR A GREAT JOB SO FAR IN THE 2012 SEASON.
5-5-2012:
TSM HAD AN AWESOME NIGHT AT ET MOTO PARK SATURDAY NIGHT ONE COULD SAY IT WAS A HAT TRICK. SHANE PARKER WINNING HIS HEAT AND TAKING THE WIN IN THE FEATURE AFTER ONLY MAKING TWO STARTS IN THE MOD-LITE DIVISION. CHRIS MCCURDY TAKES THE WIN IN THE FACTORY STOCKS. THE IMCA MODIFIED DIVISION WAS ANOTHER HAT TRICK WITH ROBERT ADAMS IN THE 50 WINNING AND NORMAN UPTAIN SR TAKING SECOND AND THEN MARK STEWART BRINGING IT HOME THIRD WITH TSM 1,2 AND 3. I WANT TO THANK ALL THE DRIVERS FOR THERE SUPPORT AND IF I CAN HELP IN ANY WAY PLEASE CONTACT ME. THANKS AGAIN.
4-28-2012:
ROBERT ADAMS MAKES IT 5 WINS IN HIS SHAW BY TSM WITH TSM SHOCKS SATURDAY NIGHT AT ET MOTO PARK.
5-5-2012:
TROY FOWLER WINS THE MODIFIED FEATURE AT MALDEN, MO IN HIS SHAW BY TAYLOR WITH TSM SHOCKS ON BOARD.
4-20-2012:
ROBERT ADAMS DRIVES HIS SHAW BY TSM WITH TSM ENHANCED SHOCKS RIGHT INTO VICTORY LANE SATURDAY NIGHT AT YUMA SPEEDWAY. ROBERT AND TEAM THRASHED SAT MORNING TO REBUILD THE FRONT CLIP OF HIS CAR AFTER A UTE TIRE GOT HIM THE LAST TIME OUT AT ET MOTO PARK. WE ALL GOT THE CAR DONE ABOUT 2PM AND DROVE ACROSS TO YUMA IN A3 HOUR JOURNEY TO TAG THE HEAT AND MAKE THE TRANSFER SPOT WHICH STARTED US 11TH WITH THE POINTS AVERAGE. WEIRD FACT HE HAS STARTED 11TH 3 TIMES AND WON ALL THREE RACES STARTING THERE. THANK YOU ROBERT AND TEAM ON A GREAT WIN AND THANKS FOR A GREAT B-DAY PRESENT.
4-20-2012:
KENNY JOHNSON GETS ANOTHER WIN AT JACKSON COUNTY SPEEDWAY.
4-14-2012:
KENNY JOHNSON GETS A WIN THIS YEAR AT JACKSON COUNTY SPEEDWAY.
http://www.youtube.com/watch?v=DUC_iQz3zqo&feature=uploademail
4-14-2012:
BJ BAZE GETS A NICE IMCA WIN WITH THE NEW TSM PULLBAR AND TSM SETUP. THANKS TO BJ HE IS ONE OF THE MEMBERS THAT BILSTEIN IS GOING TO SPONSOR WITH THERE NEW BASE VALVE SHOCK THAT IS DUE TO COME OUT IN MAY.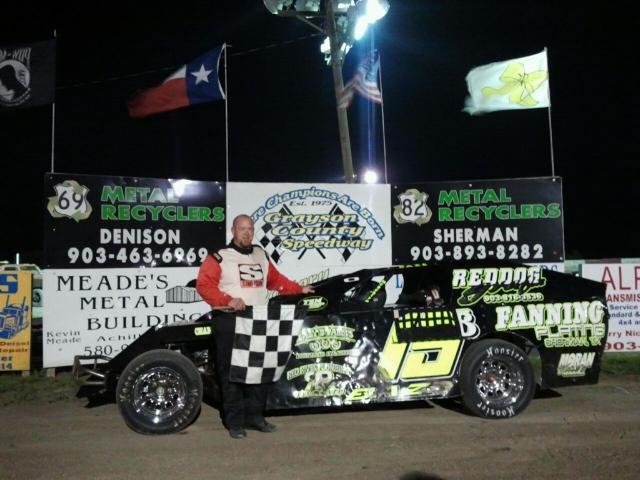 4-14-2012:
GAVIN LANDERS GET THE CHECKERS FIRST IN HIS PRO SERIES TRUCK AT NEW SMYRNA SPEEDWAY. KEEP UP THE GOOD WORK CHIEF.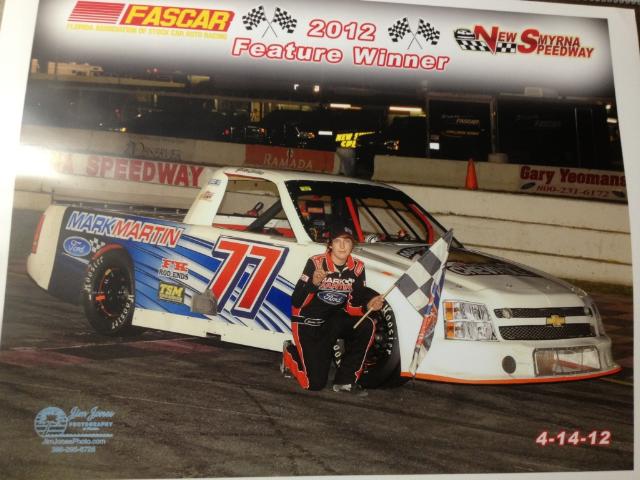 4-7-2012:
AFTER DRIVING A GRT FOR THE NOLE FAMILY IN THE USMTS CIRCUIT, STORMY SCOTT RETURNS HOME TO DRIVE HIS PERSONAL CAR A SHAW BY TSM AT LAS CRUCES SPEEDWAY SATURDAY NIGHT. STORMY SAYS HIS SHAW BY TSM DRIVES SO MUCH EASIER THEN THE GRT BUT U HAVE TO DO WHAT U HAVE TO DO TO RACE. STORMY LAID THE SMACK DOWN TO THE LOCALS AND TOOK THE CHECKERED FLAG WITH FLYING COLORS. SAID HE WISHES HE HAD THIS CHASSIS ON THE USMTS CIRCUIT THEY REALLY WOULD BE IN TROUBLE. THANK YOU STORMY FOR THE EXCELLENT JOB.
4-9-2012:
TSM HAS ORDERED A NEW MILLING MACHINE AND WE GOT A 9X50 SHARP MILL WITH FULL DRO SYSTEM IT WILL BE HERE IN ABOUT 8 WEEKS. I WILL PUT UP PICS WHEN WE GET IT.
4-9-2012:
SHIRTS ARE GETTING CLOSE A COUPLE WEEKS OUT GET YOUR ORDERS IN NOW!!
4-2-2012:
RONNY JORDAN GETS THE OPEN WHEEL FEATURE AT THE DEEPSOUTH SPEEDWAY IN LOXLEY, AL. THANK YOU RONNY J.
3-24-2012:
WELL ANOTHER GOOD WEEKEND FOR THE 50 CAR FROM THE TEAM TSM SHOPS, LOADED AND READY FOR SATURDAY NIGHT ACTION. AFTER A BAD HEAT AND BEING INVOLVED IN A BIG WRECK THERE WAS PLENTY OF WORK TO BE DONE JUST TO GET THE CAR READY TO MAKE THE FEATURE. STARTING 19TH THE DRIVER WAS A LITTLE PISSED TO SAY THE LEAST AND AS HE MAN HANDLED THE 50 CAR AROUND THE SPEEDWAY IN EVERY SPOT THAT THE COMPETITION WAS NOT TO PASS AS FAST AS HE COULD HE FOUND HIMSELF 2ND WITH A COUPLE LAPS REMAINING. WITH A GREEN WHITE CHECKERED IN STORE ROBERT ADAMS MANNED UP AND DROVE TO VICTORY PASSING MARIEN SIEDLER WITH 2 LAPS REMAINING TO TAKE THE CHECKERED FLAG FIRST. WELL GET THE CAR TO THE SHOP AND PUT IT ON LIFE SUPPORT AND TRY TO GET IT READY FOR THIS WEEKEND BUT WHO KNOWS WHAT WILL HAPPEN. THANKS TO BOB AND DAVE AND MARTIN FOR HELPING ROBERT ADAMS AND THE ADAMS TRANSPORT SHAW BY TEAM TSM TO VICTORY LANE.
3-24-2012:
NEW TSM SHIRTS ARE ON ORDER AND WITH EVERY NEW PACKAGE OF SHOCKS U WILL RECEIVE A SHIRT FREE OF CHARGE.
3-18-2012:
TSM RUNS 1-2-3 AT OCALA SPEEDWAY IN FLORIDA ON SATURDAY NIGHT WITH KYLE BRONSON TAKING THE CHECKERED FLAG FIRST. JEFF MATHEWS COMES HOME A CLOSE SECOND AND WAYNE HAMMOND RUNS THIRD. I WOULD LIKE TO THANK YOU GUYS YOU HAVE REALLY SET THE BAR HIGHER IN FLORIDA WITH YOUR SUPPORT WE ARE WINNING A LOT OF RACES AROUND THERE.
3-17-2012:
TSM ALSO WANTS TO THANK STORMY SCOTT FOR HIS GREAT RUNS AT HUMBOLT, KS ON HIS INTEGRA SHOCKS BY TSM. HE RAN THEM IN LAS CRUCES ALSO AND ENDED UP 4TH THERE.
3-17-2012:
TSM WANTS TO THANK CHRIS HUCKABAY FOR THE WIN TONIGHT AT USA SPEEDWAY! AS CHRIS PUT IT TO ME THEM OLD TSM'S WAS MAKING IT HAPPEN IN THE SLICK TONIGHT. THANK YOU CHRIS AND I HOPE MANY MORE TO COME THIS YEAR.
3-10-2012:
robert adams comes from 11th to pass ricky thornton jr both tsm shock customers to take the win in the last 100 yards. i want to thank robert on a hard drive we are working on this imca setup stuff shocks and setup and its paying off we have learned a lot not having a spoiler in four races he has won two of them.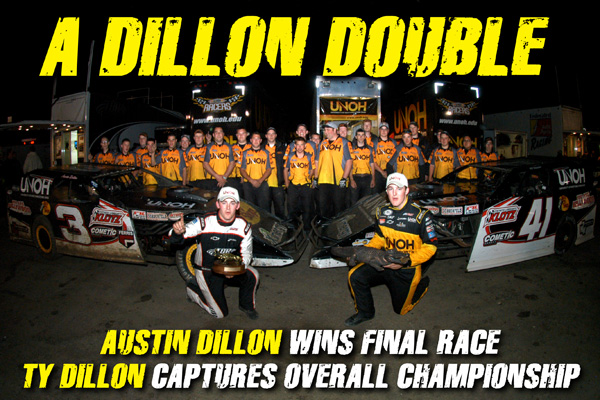 2-22-2012:
TSM WANTS TO THANK EVERYONE THAT WAS ATTENDING SPEED WEEKS AND THAT RACED IN ALL THE RACES. WE WANT TO THANK WAYNE HAMMOND AND KYLE BRONSON THE MOST FOR DOING AN EXCELLENT JOB DOWN IN FLORIDA WITH ALL THE RACES THEY ATTENDED. WE ALSO WANT TO THANK TY DILLON AND AUSTIN DILLON AND SHANE MC DOWELL FOR TAKING THE FINAL MODIFIED CHECKERED FLAG FIRST AND SECOND WITH THE SHAW BY LANDERS WITH TSM ENHANCED BILSTEIN SHOCKS. THANK YOU TO ALL THE RACERS I HOPE EVERYONE IS SAFE ON THE WAY HOME AND IF YOU NEED SOMETHING LET ME KNOW.
2-3-2012: SNEAK PEEK AT THE NEW DECALS 2012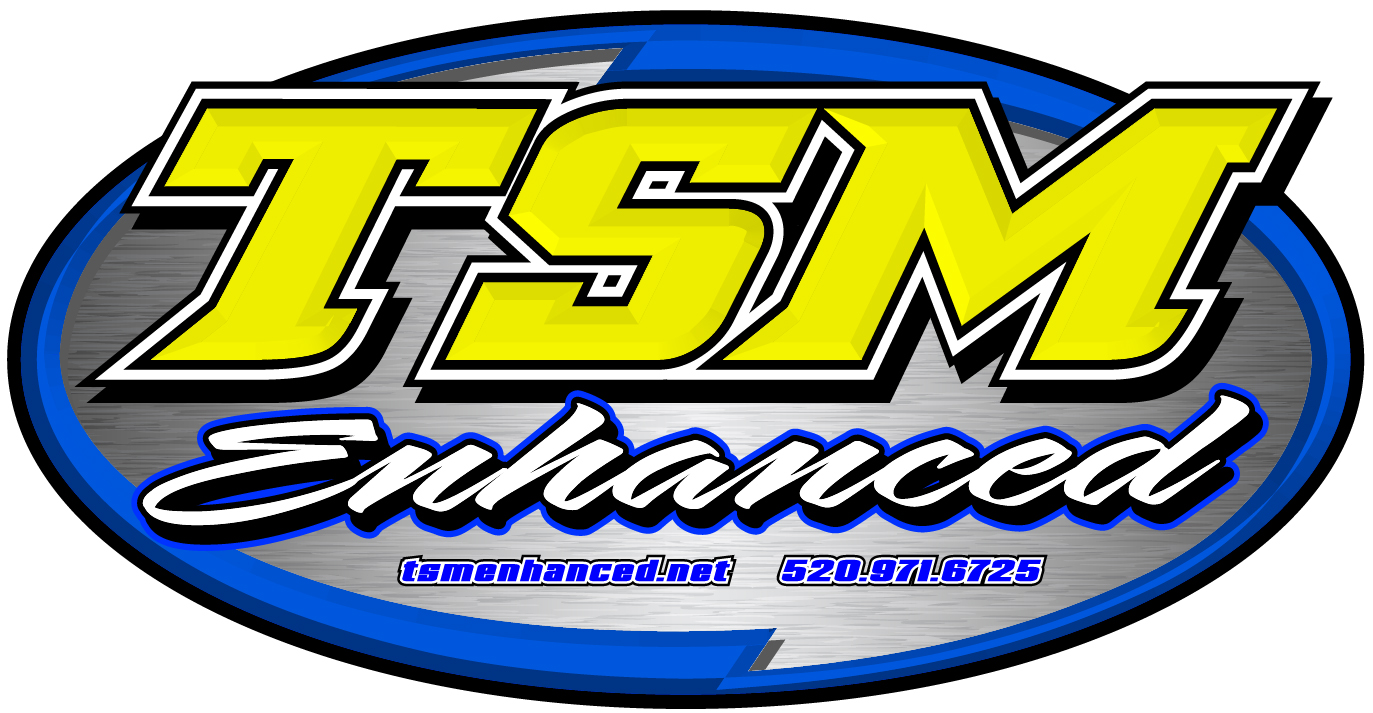 2-3-2012:
WELL KYLE BRONSON DOES IT AGAIN WITH A SHAW CHASSIS AND TSM SHOCKS. OCALA SPEEDWAY KYLE WON HIS THIRD STRAIGHT MAIN EVENT DRIVING THE WAYNE HAMMOND OWNED MODIFIED. THANKS GUYS KEEP UP THE GOOD WORK.
1-30-2012:
WELL I HAVE TO SAY FLORIDA IS A HOT SPOT FOR TSM SHOCKS AND WITH THE 2012 SPEED WEEKS STARTING UP WE TOOK THE FIRST TWO RACES AT LAKE CITY. KYLE BRONSON DRIVING FOR WAYNE HAMMOND TOOK THE CHECKERED FLAG BOTH NIGHTS OF THE WEEKEND. THANKS TO YOU GUYS AND KEEP UP THE HARD WORK AND LET ME KNOW HOW IT GOES.
1-22-2012:
WELL AS THE WILD WEST SHOOTOUT COMES TO A CLOSE I WOULD SAY THE TSM SHAW CHASSIS THAT ROLLED OUT OF OUR SHOPS IN APRIL THIS YEAR WAS THE BIG WINNER. STORMY SCOTT THE #2S RIDE STARTED THE WEEKEND OFF WITH A WIN AND A SECOND. WORKING WITH SOME NEW SHOCK COMBOS FOR 2012 ON HIS RIDE WE HAVE COME UP WITH SOME STUFF FOR THE CARS GOING TO BE ON A SPOILER THAT CAN MAKE A BIG DIFFERENCE. WEDNESDAY NIGHT WAS NOT SO GREAT AS THE TRACK WAS HAMMER DOWN AND STORMY WAS INVOLVED IN A BACK STRETCH CRASH SIDELINING ALL THE BIG NAMES. FRIDAY NIGHT AS MOST THE VIBE IN THE PIT AREA WAS THE TRACK WAS WAY TOO HEAVY THE SURFACE WAS BACK TO SLICK AND STORMY STARTED 9TH AND WORKED HIS WAY TO THE FRONT AND PROCEEDED TO TAKE THE CHECKERED FLAG FIRST. SATURDAY WAS THE SAME TRACK CONDITIONS AND STORMY PASSING HIS BROTHER AND PULLING AWAY WON THE FEATURE THAT NIGHT TOO. SUNDAY WITH THE TRACK SLICK STORMY SAT THE POLE FOR THE RACE AND TOOK THE EARLY LEAD WITH RODNEY SANDERS PASSING HIM AND TAKING THE WIN IN THE RUBBER STORMY GOT SECOND AND WAS HAPPY WITH HIS OVER ALL PERFORMANCE OF HIS MACHINE FOR THE WEEK.
1-7-2012:
AS WE HERE AT TSM START OFF THE YEAR OUR HOUSE CAR HAS MADE SOME CHANGES AND WE HAVE DECIDED THAT OUR RULES AROUND HOME HAS GOTTEN OUT OF CONTROL AND WE MADE THE SWITCH TO IMCA WITH OUR CAR TO GO TRY ANOTHER TYPE OF RACING.
#50 HEADED TO YUMA SPEEDWAY THE FIRST NIGHT OUT WITH OUR IMCA SETUP AND WAS SUPPOSE TO START ON THE POLE OF THE 4TH HEAT AND WITH STARTER ISSUES HAD TO CHASE THE FIELD DOWN AS THEY WERE TAKING THE GREEN HE WAS PULLING ON THE TRACK AND HE WOUND UP 3RD. THAT ALLOWED HIM TO START IN THE 11TH POSITION AND WITH IN 5 LAPS HE WAS 2ND AND ON A RESTART HE TOOK THE LEAD FROM TIM WARD AS HE BROKE A BRAKE LINE ENTERING TURN ONE. AS THE RACE WENT ON #50 WITH ROBERT ADAMS BEHIND THE WHEEL WAS PULLING AWAY FROM THE FIELD AT LEAPS AND BOUNDS ENDING THE RACE WITH OVER A LONG STRAIGHT AWAY LEAD ON SECOND PLACE. THANKS TO DAVE AND BOB FOR HELPING OUT AND ROBERT FOR RACING FOR TSM IN 2012.